Nothing but figs. It's fig season here in Sonoma County and in anticipation of my upcoming fig recipes, I had to write this "fig appreciation post."
Here we go ...
For starters, figs are technically not a fruit ― they are actually inverted flowers. You'll never see a fig tree blooming like an apple or peach tree. Instead their flowers bloom inside the pear-shaped pod, which later matures into the "fruit" we eat.
Figs are packed with nutrients (and not with calories!) and offer a variety of potential health benefits, such as promoting healthy digestion, decreasing your risk of heart disease, and helping you manage your blood sugar levels.
Additionally, they are rich in both copper and vitamin B6. Copper, together with iron, enables the body to form red blood cells. It also helps to maintain healthy bones, blood vessels, nerves, and immune function, and it contributes to iron absorption. Vitamin B6 plays a key role in mood regulation by potentially decreasing high blood levels of the amino acid homocysteine, which have been linked to depression and other psychiatric issues.
(So, good food does equal good mood?)
According to the internet, there are over 700 varieties of fig trees -- most of them being of no use for home gardens. All of the varieties fall into the following four categories:
Caprifigs – Caprifigs only produce male flowers and never bear fruit. Their only purpose is to pollinate female trees.
Smyrna – Smyrna figs bear all female flowers and have to be pollinated by a caprifig.
San Pedro – San Pedro figs bear two crops: one on leafless mature wood that requires no pollination and one on new wood that requires pollination by a male flower.
Common figs – Primarily common figs grow in home landscapes and don't need another tree for pollination.
Within the "common" group, here in Northern California you will mostly find the Black Mission and Brown Turkey figs.
Both the Black Mission and Brown Turkey figs have sweet, delicious fruit with rusty red to purplish skin and richly toned pink flesh. The trees are suited for a Mediterranean climate -- which is why they grow so well up here in Sonoma County -- and produce prolifically, which in some areas makes them invasive.
Growing figs
From my research, it appears that the brown turkey fig trees are pretty low maintenance and a good option for first-time growers. To find a guide to growing Brown Turkey figs, click here. For how to plant and care for your Black Mission figs, click here.
So now that we know the types of figs, how to grow them, and why we should eat them ... the question is how do we eat them?
Now on to the appreciation part of this post ...
Figs are a versatile fruit with a natural sweetness. Fresh figs have a mildly sweet taste with a soft, jammy texture, making them a perfect snack on their own. However, if you're in the mood to cook, they pair well with a variety of other foods such as cheese, bacon, cream/yogurt.
Here are 10 of my favorite recipes:
Baked figs with goat cheese and candied prosciutto — the perfect bite for weekend cocktail time.
Looking for a fun (and easy) snack to go along with this weekend's cocktails? Since it's fig season — and since I LOVE cheese — I whipped up a batch of baked figs with goat cheese and candied prosciutto.
Get the recipe here: Baked Figs with Goat Cheese
---
Wondering what to make with fresh figs? Definitely make roasted figs! These roasted figs with caramelized sugar and cinnamon are out of this world!
Get the recipe here: Roasted figs
---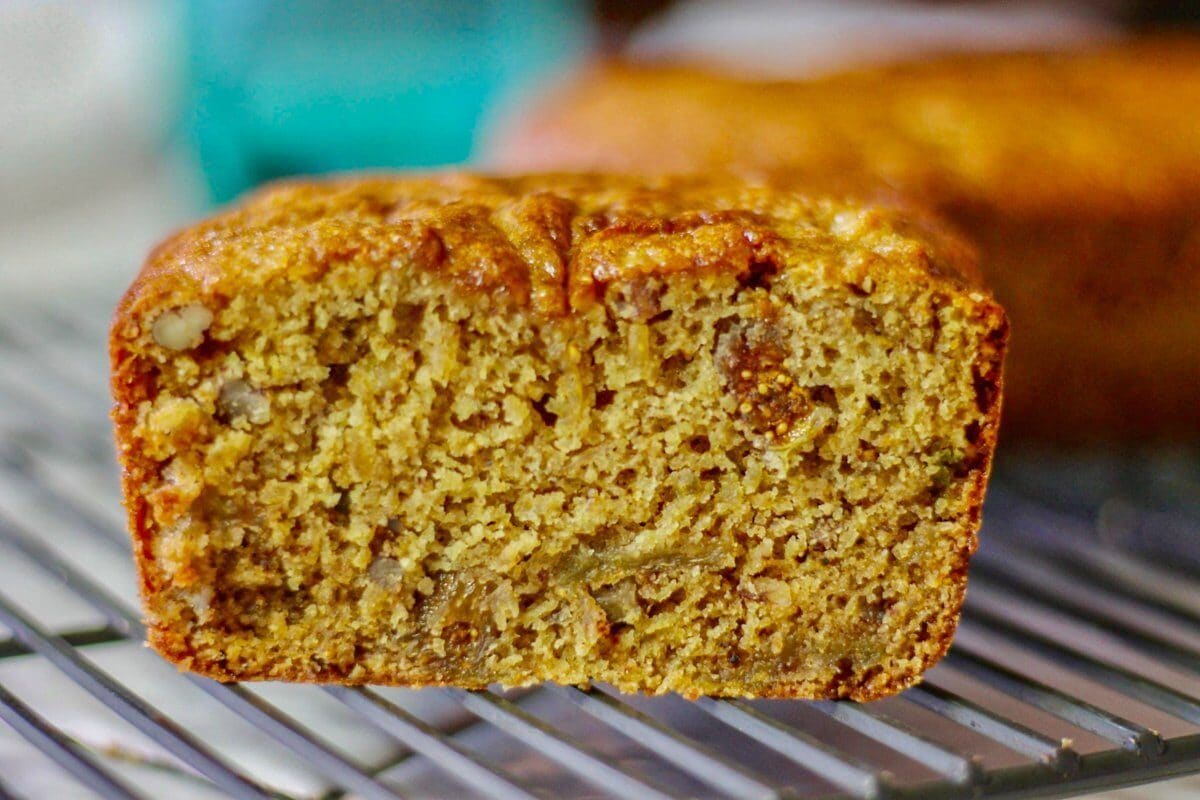 Moist, sweet, and flavorful homemade fig bread is a Fall favorite. This fig bread is loaded with chunks of fresh figs, chopped walnuts, and spiced with cardamom and cinnamon.
Get the recipe here: Fig bread
---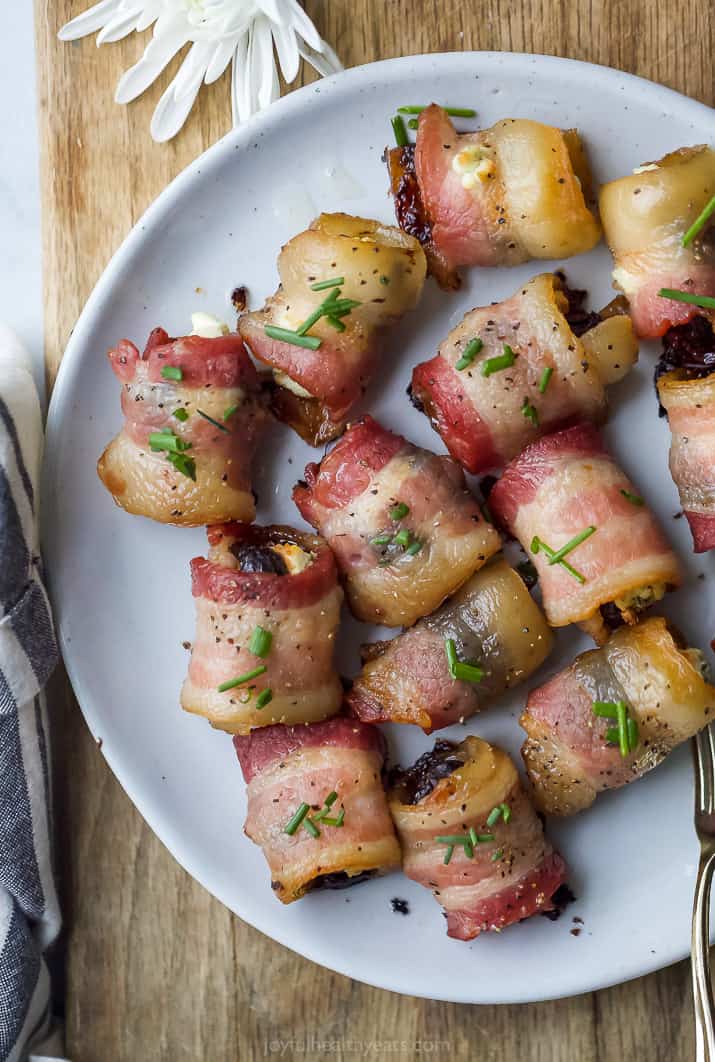 These Bacon Wrapped Figs with Herb Goat Cheese are such an easy appetizer idea – but they look super fancy! It's the perfect Thanksgiving or Christmas appetizer idea.
Get the recipe here: Bacon-wrapped figs
---
It is my favorite time of year, Fig Season! If you have an abundance of fresh figs or just like boozy fruit try this Amaretto Soaked Figs Recipe. Serve over ice cream or yogurt for a unique and flavorful dessert!
Get the recipe here: Amaretto-soaked figs
---
This Fig Tart is made with a coconut-cashew cream filling that is rich and creamy, lending a delightful textural contrast to the crunchy crust that's made with oat flour, almond flour, and cornmeal. This vegan and gluten-free tart is a must-make during fig season!
Get the recipe here: Fig tart with coconut-cashew cream
---
Cucidati or Italian Fig Cookies is the one standing tradition remaining in our family.
Get the recipe here: Italian fig cookies
---
This Roasted Fig Gelato is the richest and creamiest homemade ice cream I've made to date on the blog. This salad is made with fresh figs and mascarpone cheese, and stays beautifully scoopable even after a night in the freezer.
Get the recipe here: Roasted fig gelato
---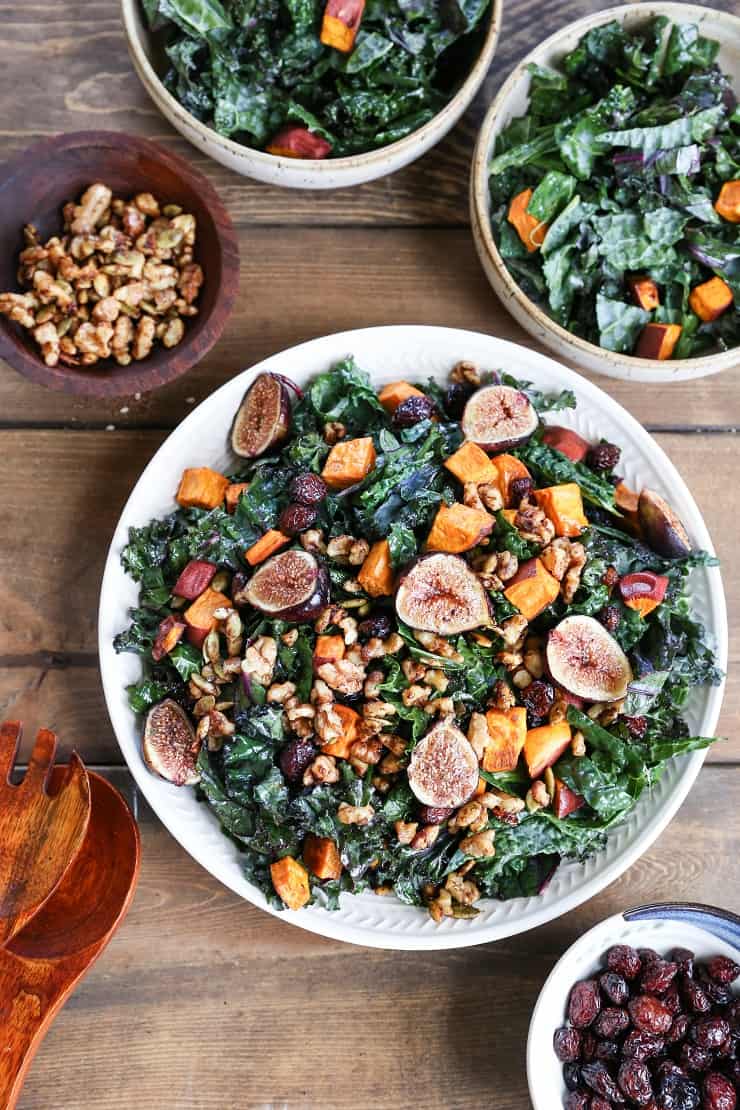 Roasted Sweet Potato Fig Kale Salad with toasted walnuts, cranberries and a cider vinaigrette is a superfood vegan salad recipe.
Roasted sweet potatoes and figs adorn this superfood kale salad. Topped with maple-toasted walnuts, pumpkin seeds and dried cranberries with an easy maple-cinnamon cider vinaigrette, this salad is a beautiful fall-inspired clean meal or side dish.
Get the recipe here: Roasted sweet potato fig kale salad
---
My husband cannot ever get enough of meringue or as Trinbagobian's call it – soupees. That is why I decided to make the meringue cake. I have made pavlova or meringue before with a cookbook challenge held by Deborah and her Rainy Day Bites cookbook club and it was pretty straightforward. The recipe was from Dennis Prescott and was a very descriptive one with very good instructions. The thing about his recipe though is that in the end you smashed it to serve. So even if there were cracks in it you didn't have to worry about it or worrying about it collapsing on you. Ever since making that one, Johann has literally been asking for meringue non-stop.
Get the recipe here: Honey and fig pavlova